Campaign Builder 002.1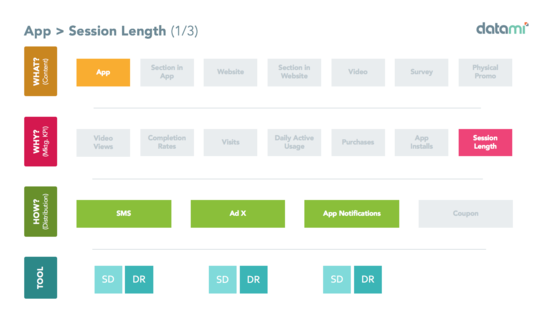 The Approach

001 Understand the combination of campaigns that could occur. Working with the product manager for the platform, we mapped out the variants. This image depicts the options for just "App" type of campaigns, there were 16 altogether.

002 In the Campaign Builder, partners need to select a property/content to promote (Step 1), then decide on a marketing objective (Step 2) and on the type of campaign; Sponsored and/or Data Rewards (Step 3). Sponsored Data and Data Rewards are the core technology to Datami's flagship products; all of our products are geared towards allowing our partners to run campaigns using this technology. To run a marketing campaign that offers sponsored data and data rewards.

My Role
Facilitated workshop: Research, IA, concept, design, interaction, user experience:

Because I was the lead on the platform (project 1), I knew intricately how we had user-storied features and the functionality we were looking to build. This is an extension from project 1.


Project (01.1)
* Campaign Builder
(Part 2/2)

A closer look at the Campaign Builder step of the Campaign Ad Manager Platform (as seen in Part 1). This showcase focuses on the campaign creation component of the platform.

Real-world Challenge
To simplify a complex campaign set up process.

Sponsored data was a new concept and the users given the task were not familiar to the concept or process. The goal was to guide people through a campaign set-up, breaking down each step into an easy to understand component.

Why It Exists
Depending on which components are selected here, the steps further down the line configures for the appropriate information. This ensured a seamless experience while showing only the relevant fields for the campaign, as opposed to disabling sections.

Was it a success?
In a similar sense to the part 1 of this project (Campaign Manager platform), it helped the users know how to set up a campaign and the type of campaign they were building. In theory it worked, for delivery however, each build was scoped too big and the team struggled to deliver. My lesson here is to be very clear about what we're trying to build and the expectation of functionality.