Data Rewards 001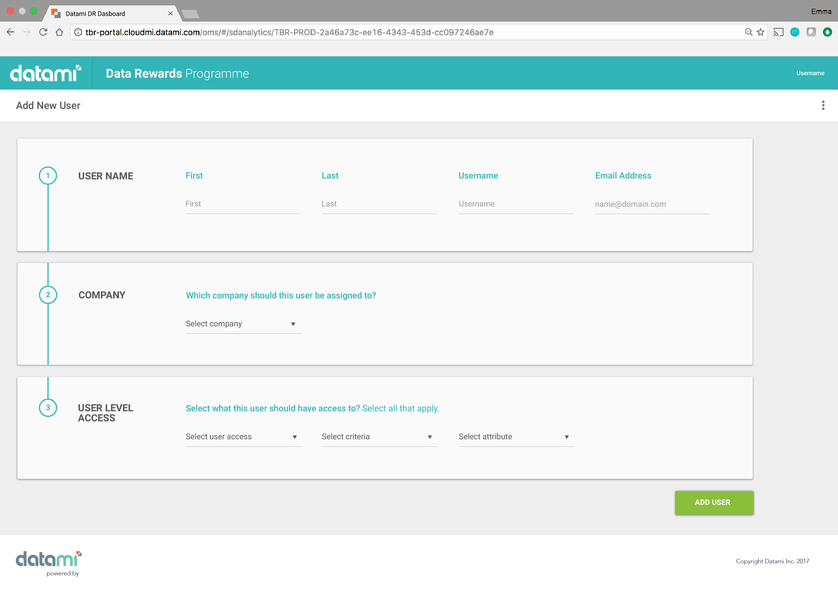 The Approach
001
Final product: add a new partner and user
002
Final product: partner and user management
My Role
Research, IA, concept, IX, UX, visual design.
Project (3)
* Data Rewards Platform

A core product of Datami's suite, the rewards platform onboards Partners into the ecosystem to run reward campaigns.

Real-world Challenge
Datami needed a solution to bringing new partners onboard its platform. Before this existed, to get partner into the Datami platform it was a very manual process; with a sales person working through a list of questions with the main point of contact for any given customer and then someone from the development team to input this data into the backend. Not only was this not scalable, but there was room for error. The Data Rewards platform was a way for Datami's products to be found in the public domain and for customers to quickly get started using Data Reward technology.

Why It Exists
A very quick turnaround project and working directly with the CEO for the requirements, this product came about after he was speaking with various customers about why they couldn't get onto the system themselves. And so, we made it. We whiteboarded his thoughts and ideas and I went on to design these screens in addition to what I knew about the product at the time. It needed to be a simple, one-screen onboarding point.

Was it a success?
In idea and execution, yes. As a business we didn't promote it and it ended up not being used for its intent purpose. The sales team used this in direct conversation with a customer, so it wasn't entirely autonomous. We could have found more ways to promote this externally or perhaps better validated the feasibility in the beginning.